8:30 and 9:30am Classes ONLY for the 4th!! Hope everyone has a great holiday with friends and family!
WCCF's On-Ramp Program
There is still time to sign up for our first ever On-Ramp Program!  This program is designed to give beginners an introduction to CrossFit, from the theory behind the program, to the technique of the movements, and the importance of nutrition.  Over the course of 4 weeks, athletes will learn all the skills and knowledge necessary to excel at CrossFit.  The program will start on Monday, July 8th and run for 4 weeks, 3 days per week (Mon, Tue, and Thu at 6:30pm).  All for the same price as our standard 3 days/week membership, $110. Sign up HERE: https://whaling-city-crossfit.theboxhq.com/events/wccf-on-ramp-program
"Hope for Cures" July 6th. If you didn't sign up, but want to participate on Saturday, please let us know!
Thanks to everyone who has signed up! If you can't participate, donate here: https://hope.crossfit.com/sponsor?id=U30667&hope=cures ALSO, THOSE OF YOU PARTICIPATING WHO DIDN'T EVEN CREATE A DONATION PAGE (COLIN) or who haven't raised ANY money, DONATE NOW!
Join us afterwards for a 6th of July Cookout at our house! 2pm.  RSVP on Facebook.
4th of July Week Schedule Update:
Thu Jul 4th – 8:30 and 9:30am only!
Fri Jul 5th – 8:30 and 9:30am only!
Sat Jul 6th – Hope for Cures! Starts at 9am! Heat times TBA!
Sun Jul 7th – CLOSED
WORKOUT OF THE DAY
Hero WOD
"Wittman"
Seven rounds of:
1.5 pood Kettlebell swing, 15 reps
95 pound Power clean, 15 reps
15 Box jumps, 24″ box
Women's Rx: 1 pood, 65#, 20″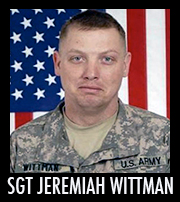 U.S. Army Sergeant Jeremiah Wittman, 26, of Darby, MT, assigned to the 1st Battalion, 12th Infantry Regiment, 4th Brigade Combat Team, 4th Infantry Division, based out of Fort Carson, CO, was killed on February 13, 2010 , when insurgents attacked his unit with a roadside bomb in Zhari province, Afghanistan.
He is survived by his daughters Miah and Ariauna, wife Karyn, siblings Robert H., Charity, Jenell, and Natasha, father Robert, and mother Cynthia Church.